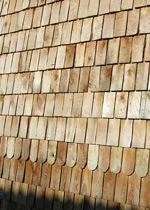 In its natural state, species show slight differences in color: with age, the color becomes more silvery.
This does not affect in any way the quality of the tiles since it is the wood's natural protection mechanism.
Treatment applied to the tiles is either green or colourless, and in no way affects the final look of the tiles.