Details

Category: Blogs
There is no translation available.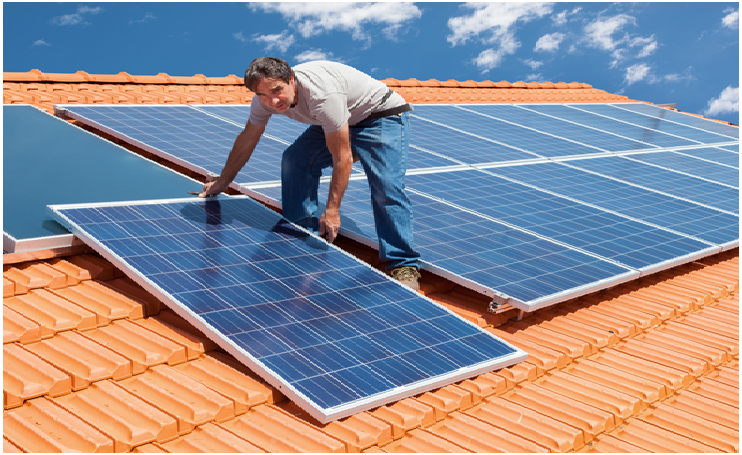 À l'heure de la transition énergétique, l'autoconsommation a le vent en poupe chez les particuliers.
Le principe ? Devenir son propre producteur d'électricité grâce à des installations domestiques
fonctionnant aux énergies renouvelables (panneaux solaires, éoliennes domestiques, pompe à chaleur, etc.).
Les producteurs peuvent ensuite choisir de consommer directement l'énergie produite pour leurs besoins
personnels et de revendre le surplus ou de revendre la totalité à un fournisseur d'énergie. Si certains
applaudissent cette innovation et la considèrent déjà comme le nouveau visage de la production énergétique,
d'autres mettent en avant le manque de rentabilité de ces installations. Faut-il passer au photovoltaïque domestique ?
Details

Category: Blogs
Sometimes called fifth facade, roofing, whether flat or sloped, deserves every respect. Aesthetics and performance, it participated in the architectural quality of a building. And contemporary solutions abound.
Read the full article EK magazine (French doc PDF)
Details

Category: Blogs
There is no translation available.
à l'occasion de la 8ème édition
«LES TROPHÉES ARTISANS MAG' 2010 »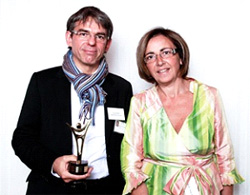 INDUSTRIE BOIS SAS et moi-même, sommes heureux de vous annoncer l'obtention du prix national de l'Innovation à l'occasion de la cérémonie des trophées « Artisan 2010 ».
Nous devons ce mérite à notre produit de traitement du bois « Bio » classe 3.2 extérieur par trempage et pulvérisation. Le BS05 est Fongicide insecticide et retardateur de feu et a été développé avec le soutien d'OSEO et de la Chambre des Métiers.
Ce prix récompense de nombreuses années de travail, de recherche, d'aboutissements et de victoires pour des structures écologiques isolantes et durables afin de contribuer à la sauvegarde de l'environnement et de la biodiversité. Cela nous ouvre de nouvelles perspectives de travail et renforce notre notoriété sur le marché du bois.
A ce titre, je remercie au nom de la société et au nom des salariés d'INDUSTRIE BOIS SAS, tous nos partenaires qui œuvrent en notre compagnie pour des habitations naturelles, nos clients pour la confiance qu'ils nous accordent depuis tant d'années, mais aussi tous les organismes qui ont contribué à la pérennité de l'entreprise.
Pierre Georges HERVÉ
Président Directeur Général
Details

Category: Blogs
There is no translation available.
Article paru le jeudi 18 octobre 2012 dans Corse Matin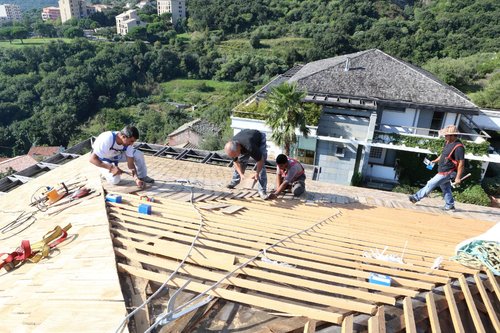 Des tuiles en bois sur les toits. Ce n'est pas un type de couverture qui est très courant dans le paysage insulaire. Depuis quelques semaines les riverains de la résidence Les jardins en ville ont pu voir plusieurs camions estampillés au logo de la SARL Piacentini et fils chargés d'une cargaison particulière: des tuiles en bois.
Details

Category: Blogs
There is no translation available.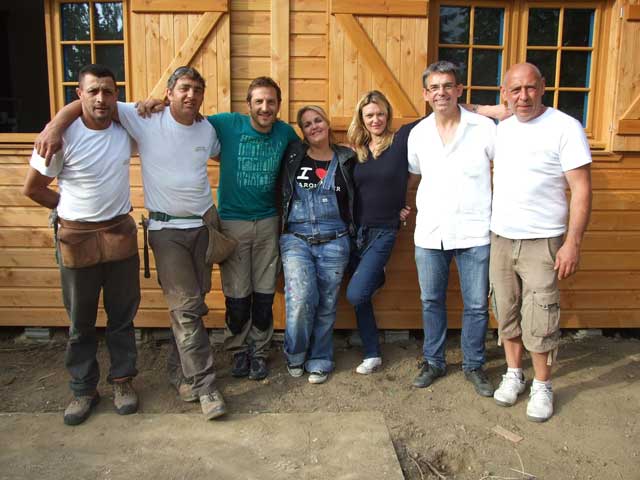 Notre équipe avec Valérie Damidot pendant le tournage de l'émission D&CO.